Community For Hope
Non-profit organization promoting suicide prevention, intervention, and grief support.
Call 1-800-273-TALK (8255) for immediate help. Text HOPELINE to 741-741
More Resources
Survivors of Suicide Loss Support Group OSHKOSH DOWNTOWN YMCA September 16th 6:30-8:00 pm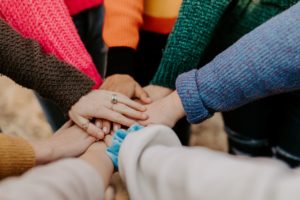 BRAT FRY!
September 19th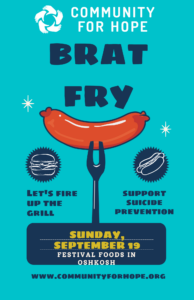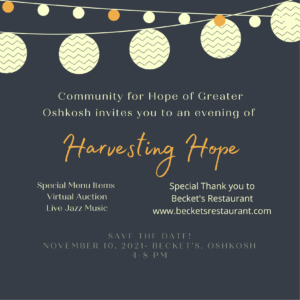 Welcome to Community for Hope
Our group was established in 2001, in response to a growing number of teen suicides in Oshkosh and the clear need for action to stem this alarming trend. While our initial focus was on teen suicide, our current focus includes all age groups.  We are a completely volunteer-based organization, and welcome and appreciate the help of any person or group who wishes to support our efforts. Also, join us on Facebook and Instagram for daily and weekly updates!!
In Memoriam
Cody Barker September 13, 2010
Cheryl Berger September 17, 2011
Tracy Bozorgmehr April 13, 2015
Rick Biesterveld January 28, 2010
Jeff Blank February 21, 2012
"Skippy" Bixby September 17, 2006
Mark Boettcher March 14, 2011
Mike Boos September 20, 2011
Gaylord Christians September 12, 2011
Alex Cornelius September 2, 2011
Debra Lee Disbrow April 27, 2011
Devon Finger November 13, 2011
Matt Foster November 8, 2011
Mark Galloway January 3, 1973
Matt Galloway December 16, 2003
Jo Gear November 27, 2006
Cody Hietpas April 26, 2011
Shane Hopfensperger February 28, 2004
Steven Keppler May 8, 2007
Tanner Logan September 14, 2004
Ted Marjenka July 21, 2010
Jeremy McKendry October 10, 2011
Bonnie Michalkiewicz April 5, 1999
James Page December 4, 2004
Amanda Reilly October 15, 2007
John Reiser October 13, 2010
Andrea Schabloski August 31, 1999
Ryan J. Schettle August 30, 2017
Dolores Schroeder June 26, 2013
Jacob Siebers February 24, 2018
Erik Smithback February 28, 2010
Grace Somenske November 7, 2008
Robert M. Spanbauer October 28, 2013
Tom Swadley, Jr. May 18, 2017
Craig Edward Tonagel December 3, 2002
Mark F. Vermeern April 25, 2006
Sal (Salvatore) Vitale September 14, 1999
Paul Weiske October 11, 2018
Alex Wesner July 31, 2007
Justin Zimmer January 15, 2006
Jake Calnin March 8, 2018
In the News